Three Questions
Why become a Christian? How does one become a Christian? What about the issue of "church"?Depending on how we answer these questions, we will go in very different directions religiously. Let's consider these three topics for a moment.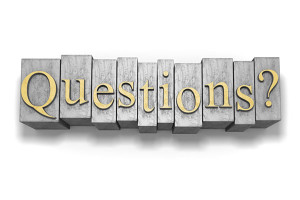 1. Why become a Christian? This may sound like a simple question, but the truth is, many people "become Christians" for reasons that are wrong. Some do no more than follow tradition or bow to peer pressure. Others may have been deluded into thinking that Christianity is the path to health or wealth in the here and now. There is, of course, more than one honorable reason to follow Jesus Christ, but one principal reason stands above all the others: the desire to be forgiven of our sins. Peter put it plainly when he said that baptism is "an appeal to God for a good conscience, through the resurrection of Jesus Christ" (1 Peter 3:21). When we are baptized into Christ, the blessing that we seek, more than anything else, is salvation from our sins.
2. How does one become a Christian? When someone says, "What must I do to be saved?" (Acts 16:30), he or she deserves a completely truthful answer. Unfortunately, many inquirers today are told, "You don't need to do anything; your faith will save you all by itself." In the New Testament, however, it is clear that people did not expect to receive the forgiveness of their sins until they obeyed the command to be baptized. Saul, for example, had been a fervent believer for three days, but he was still unforgiven when Ananias came to him and said, "And now why do you wait? Rise and be baptized and wash away your sins, calling on his name" (Acts 22:16). So if you're convinced that you need to respond to the gospel of Christ and are asking how that is to be done, don't be content until you've heard the whole truth on the subject of how one becomes a Christian.
3. What about the issue of "church"? Just as many leave out one or more of the initial conditions of God's grace, many diminish the importance of the "together" aspect of Christianity after one has become a Christian. Increasingly, people are content just to be Christians privately, with no responsibilities to others living near them who have obeyed the gospel. But in the New Testament, there was not only a private, individual dimension of the gospel; there was also a collective responsibility. As John said, "He who does not love his brother whom he has seen cannot love God whom he has not seen. And this commandment we have from him: whoever loves God must also love his brother" (1 John 4:20,21). In the Book of Acts, we see that in every place where people obeyed the gospel, there was a "church" or "assembly" of Christians, a fellowship of believers working and worshiping together by the Lord's authority and to His glory (Acts 11:26).
All three of the above questions are important. For all three, we need accurate answers — from the Scriptures rather than personal opinion or popular belief.
So at whatever point you may be in your response to the gospel of Christ, consider these three questions carefully.
Don't be content until you have obeyed the gospel of Christ as commanded in the Scriptures and have found a group of Christians to work and worship with who are faithfully following the Lord's authority for His people.
Courtesy of Gary Henry – AreYouaChristian.com If you have any questions or desire to study further please contact us.